About Listen Hear Hearing Solutions
Because the founder of Listen Hear Hearing Solutions suffers from a severe hearing loss, we know how it feels when you can't hear correctly. We not only want to improve the hearing of our patients but we also strive to help our patients understand what they are hearing better, so that they may have a fuller and richer life on a daily bases. We are devoted to caring for the hearing health care needs of you and your family. At Listen Hear Hearing Solutions we strive to treat all of our patients with the expert care and dignity you deserve. Our friendly and professional staff is more than happy to help you at any time. Start living a fuller life through better hearing!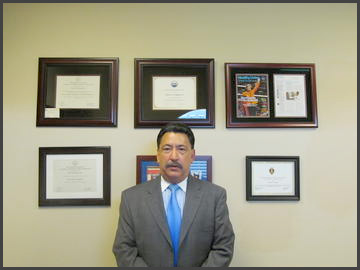 Lorin E. Gregory Jr. - Founder
Lorin got into the industry, by accident, after many years of hearing loss that started as a young child, he was originally misdiagnosed as having a learning disability. He realized there was a problem, but not knowing that he was suffering from hearing loss there was never a solution until, Lorin was an adult and currently wears hearing aids. No one knows better than Lorin how hearing aids can and will change your life. Lorin is very aware of the physiological, emotional and social, frustration that accompanies hearing loss. Lorin has been nationally recognized for his commitment to patient care and is the founder and owner of Listen Hear Hearing Solutions. Lorin has an unwaving belief that his patients deserve the best technologies in testing, diagnosis, hearing instruments, fitting, programming and post patient care that is second to none in the industry.
Lila Pineda - Office Manager
Lila Pineda graduated from Canyon High School in 1996 and has worked in New Braunfels for many years. She has volunteered at the Comal County Fair grounds and Wurstfest.

Lila joined Listen Hearing Solutions in May 2013 and has over 10 years of customer service and administrative experience. She enjoys interacting with people on a daily basis and believes in great customer service.
Free Hearing Test
Free Otoscopic Examination
Free Evaluation with Recomendation
Free Annual Hearing Test
Free Clean And Checks
Free Life Time After Care
Free Batteries w/ purchase of Hearing Aids*
Free Three Year Warranty*
Free Three Year Loss And Damage Warranty*
* Model and Conditions May Apply